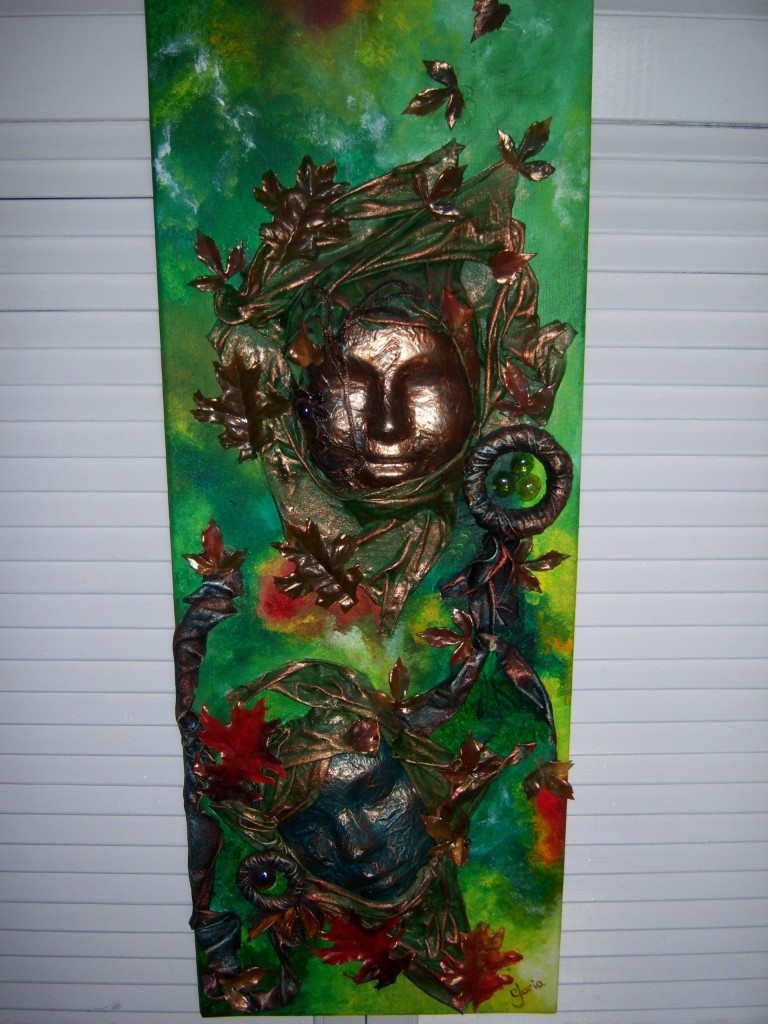 Paverpol Canvas Art / Heirloom Treasure Pictures
Make an abstract canvas piece of art to amaze your friends and family or create a memory [keepsake] canvas with old treasured clothes and keepsake objects. I have paverpolled my daughter's denim dress and top she wore when she was 3 yrs old. I used bronze and after dry brushing it with gold and copper paint I framed it in a glassbox type frame which I purchased in Ikea. She received it for her 21st birthday this year and you can just imagine the emotion when she saw it!! So get your thinking caps on and find those little treasures you have hidden away just waiting to be paverpolled!! Remember all clothing and objects need to be natural fibers.
You will need to bring:
-your keepsake items, babys clothing, baby shoes, ballet shoes, granda's old hat, gardening gloves, sport outfits, etc to mention just a few you may treasure….
– embellishments such as old jewelry, beads, silk or dried flowers (optional)
– a canvas 30cmx40cm or boxed glass frame.[to fit your items] Canvas may be purchased at the class if necessary.
– a selection of your preferred acrylic paints
 – a rag or old towel to dry your hands
– tight fitting latex gloves (optional)
Bring your own lunch. Coffee/Tea & biscuits are provided.
N.B. All participants will be provided with a litre pot of black paverpol for the class. Another pot may be purchased at the class if needed to complete artwork.
Book now as places are limited
Venue:  The Alley, Strabane
When: Most Saturdays in March/April  from 10am-4pm
Cost:     £65.00
Use contact details and email to secure your place!